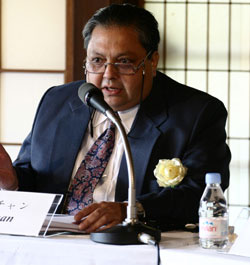 I am pleased to welcome you to the National Gallery of Modern Art (NGMA), the premier institute in the country that houses modern and contemporary Indian art. Founded in 1954 as a prominent modern institution of a new independent nation, the NGMA reaffirms its role today, collecting, preserving and actively building a front-ranking institution which houses masterpieces that trace the trajectory of modern Indian art, through the transformation of the pictorial language.
The NGMA's task is particularly significant because of the distinct character of modern and contemporary Indian art. Uniquely positioned, it is a powerful synthesis of western aesthetic values, and conceptual elements of Indian art, of different mediums and sensibilities, of a long and vibrant history steeped in art, philosophy and culture. Collecting for the NGMA required and still requires a sense of history as well as an awareness of ongoing debates and cutting edge developments.
Our rich and varied collections comprise of more than 17,000 art objects - paintings, sculptures, prints and photographs. In January 2009, the NGMA proudly opened its new wings, with the commissioning of three new blocks, increasing the existing spaces almost six fold. We aim to install state of art display facilities, within the modern spaces given to creating clearer and better understanding of our collections. Coupled with modern facilities of display, conservation, auditorium and library, the NGMA aims to make the viewing and understanding of modern and contemporary Indian art a joyful and enriching experience across all levels of audiences.
Prof. Rajeev Lochan
Director
National Gallery of Modern Art