'Art coming of age': UPA chairperson Sonia Gandhi with Union Minister for Tourism and Culture Ambika Soni and Minister of State for Tourism Kanti Singh during the inauguration of the new wing of National Gallery of Modern Art in the Capital on Monday.
New Delhi - 19th January 2009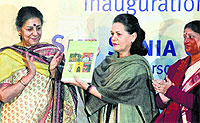 United Progressive Alliance chairperson Sonia Gandhi inaugurated the new wing of the National Gallery of Modern Art in the Capital on Monday saying it would do full justice to the genius and creativity of Indian artists.
After lighting the traditional lamp before a packed house of artists, architects and conservationists at the NGMA, Ms. Gandhi said the new wing was a significant step forward in the gallery's evolution into becoming a world-class institution.

"This new wing is the coming of age of modern art of India. I hope this gallery will host more international exhibitions where ideas and influences from different lands cross-fertilise each other. It is apt that NGMA is hosting a retrospective on Nandalal Bose, who was a prominent figure of modern Indian movement and also a freedom fighter. Another exhibition is 'In the Seeds of Time'. The opening of these two exhibitions coincides with the coming of age of modern Indian art," she said.

Stating that Indian art was associated with a number of art movements including the Bombay progressive arts movement, Ms. Gandhi said: "This demonstrates that despite external influences, the country remained grounded to national and regional identities."

Pointing out that it was the country's first Prime Minister Pandit Jawaharlal Nehru who patronised modern Indian art, the UPA chairperson said it was an acknowledgement of how significantly artists had contributed to national identity.

Ms. Gandhi said museums cannot fulfil their true purpose until they educate people. "Museums should attract people in large numbers. Former Prime Minister Indira Gandhi had once said that she had received more education from museums than schools that she had attended."

The new additions at NGMA that include a permanent gallery space, an auditorium and other facilities bring it at par with best museums of modern art world wide. Earlier, Union Culture and Tourism Minister Ambika Soni presided over the inaugural function. Minister of State Kanti Singh was the guest of honour. Minister of State for Home Sriprakash Jaiswal, Delhi Chief Minister Sheila Dikshit and former Union Home Minister Shivraj Patil besides artists Satish Gujral and Jatin Das were among those present on the occasion.


Mrs. Sonia Gandhi, Chairperson, UPA inaugurated the new wing
of the National Gallery of Modern Art

Mrs. Sonia Gandhi, Chairperson, UPA lighting the traditional
lamp
Mrs. Sonia Gandhi, Chairperson, UPA releasing NGMA
publications
Mrs. Sonia Gandhi, Chairperson along with Mrs. Ambika Soni,
Minister of Tourism & Culture visiting the gallery