About Us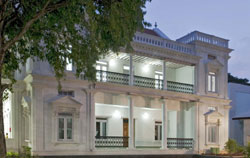 Located in the prestigious heritage premises of Manikyavelu Mansion, the NGMA Bengaluru branch was inaugurated by the Honourable Union Minister of Culture and Tourism, Mrs. Ambika Soni on February 18.

Over 90 years old, the Manikyavelu Mansion on Palace Road was once the property of the Mysore royal family. The mansion later came to be owned by Raja Manikayavalu Mudaliar, a mine owner. It was taken over by the State Government in the late sixties, who then offered it to the Ministry of Culture in July 1989 for setting up of a modern art Museum at Bengaluru by NGMA. The foundation stone for the museum was laid in 2001.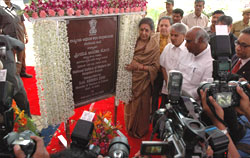 Spread over an area of 3.5 acres, the historic heritage mansion was transformed from a residency into a museum gallery, with a display space of 1551 sq. m by architect Naresh Narasimhan of Venkataramana Associates. The heritage building has been supplemented by a new Gallery Block, which adds a display space of 1260 sq. m. The new architecture is so designed, that while fulfilling the requirement of spaces needed by a modern museum, it coexists in harmony with the style and ambience of the traditional mansion. Equipped with a refurbished auditorium, an open air theatre, a reference library, offices and art storage, a cafeteria, and a museum shop cum facilitations block, the NGMA looks ahead to becoming a hub of art activities and a major cultural centre at Bengaluru. The architects of the New Wing of NGMA, M/s. TEAM were provided the requisite support in the organization of the interiors and the detailing of the display systems.
Route guide to NGMA Bengaluru complex from MG Road, Metro Station:
Head towards Anil Kumble Circle and take right on Queen's Road to find Chinnaswamy Stadium on your right.
Continue straight ahead and follow the bend (Metro Construction) to find the General Post Office to your left and move straight ahead crossing the signal.
Continue ahead on Rajbhavan Road and keep straight to reach traffic signal with Chalukya Hotel in front of you.
Take right at the signal and proceed further (Sophia's High School to your left) and continue to cross the round about at Balabruhi Guest House.
Head straight ahead on Palace Road to find NGMA Bengaluru on the left side between the Anjaneya Temple and Petrol Bunk.